Ian Stinson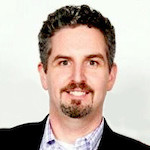 Cox Media Group, Executive Director, Digital Audience and Product
Ian Stinson is a media industry veteran with more than 20 years of experience in television content, digital operations, and product development. Among other things, Stinson is driving a strategic initiative within CMG to grow OTT audience and revenue, as consumer usage of OTT is accelerating and it is a critical area to command. Stinson is also working on other key initiatives including personalization.
Stinson's career has spanned positions at Gannett, E.W Scripps, Schurz Communications, Fox Interactive Media, and Cox Media Group. In each of these positions, Stinson has driven the development of digital products, including a content management system that supported more than 90 media sites; a social networking weather site; a mobile alerting app that achieved #1 in the iTunes App Store; first-of-a-kind interactive traffic and radar products; and Fox on Demand, the first network website to offer prime time programming in HD to the public.
Stinson's work has been recognized by a MediaPost Appy Award for Best Mobile Application, Emmy Awards, AP Best Website Awards, and Regional Edward R. Murrow awards. He currently resides in Atlanta, Georgia with his family.
Featured in: OTT and the News: Technology, Content, and Monetization (Tuesday)